Published: 6/26/17
Live Nation Concert Cash Sweepstakes+
​Summer Concert Tickets Deal
*this page contains affiliate links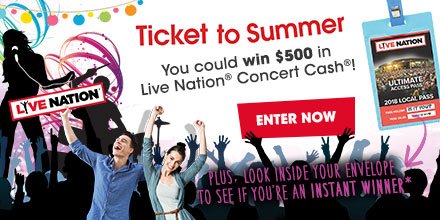 Summer is the perfect time to attend some of the best concerts. I remember as a child getting to go see The Monkees, Weird Al, and The Dirty Dancing Tour with my mom. Those were some great memories.
Now through 10/7, customers can buy three concert tickets from Live Nation and get one free for participating shows at amphitheaters across the country. Visit this page to see eligible shows and to purchase tickets.
From 6/26 - 7/20, enter for a chance to win either $500 in concert cash (one winner) or $200 in concert cash (three winners). To enter, visit the sweepstakes page on Valpak.com.
One lucky winner will find the Live Nation Ultimate Access pass inside their Valpak envelope. The pass entitles the recipient (+1) access to all Live Nation concerts of their choice in 2018 !